Home is what we create. Care is what we never compromise on.
GEM Health Care Group is a Nova Scotian, family run business which has been progressively enhancing the lives of seniors in the communities where they operate since 1979. 
The first facility acquired by GEM was a combination of three Victorian homes where the design, which included many stairs, was not practical for seniors and hampered the ability to deliver effective care. These homes were replaced with the construction of the present Gables Lodge, which was GEM's first step in providing an enhanced service to their seniors.
Since then, GEM has acquired and constructed facilities throughout the province and have continued to remain leaders in transforming how health care is delivered to seniors in Nova Scotia. GEM currently operates various levels of senior care facilities throughout Nova Scotia and Ontario.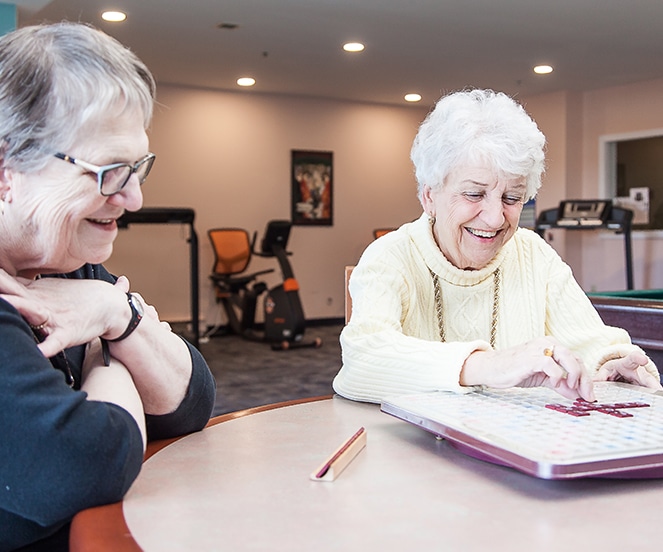 We will take care of our seniors as they did us.
We are family, we are home.
Quality, uncompromising care above all else.
Fostering enriching, diverse communities that bring people together.
We all deserve to live interesting lives.
Retirement Living That Feels Like Home
In 1992 GEM Health Care Group constructed its first retirement living facility in Halifax, Melville Heights. The facility was designed to provide seniors with an apartment style home where they would have access to daily meals, recreation activities, and more. Housekeeping and maintenance services would be taken care of and seniors can spend their time however they like.
GEM currently has three retirement living communities in Nova Scotia: Melville Heights in Halifax, Centennial Villa in Amherst, and Yarmouth Heights in Yarmouth.
The attention to detail is apparent from the time you step into the beautifully furnished lobby until you enter your well-appointed suite. All of the common areas have soft tones, fine furnishings, and rich fabric, and have been constructed with the retired mature adult in mind.
When you're at a GEM Retirement Living home, you spend your time however you'd like. You can join friends for exercises in the morning and go out shopping in the afternoon or wake up for tea and coffee in the morning and then go downstairs for your hair appointment before painting class begins. Our full time Activity Directors are experts at getting our residents involved in fun and stimulating exercises and activities and we're sure you'll be joining us in no time.
Although clients require minimal care at our retirement living locations, they rest assured that professional staff are on duty day and night, always ready to provide friendly, attentive assistance. For those who may require a little extra help with daily tasks and activities, we offer assisted living services at select locations. Please visit gemretirementliving.com for more information on Retirement and Assisted Living.
Find the location that's right